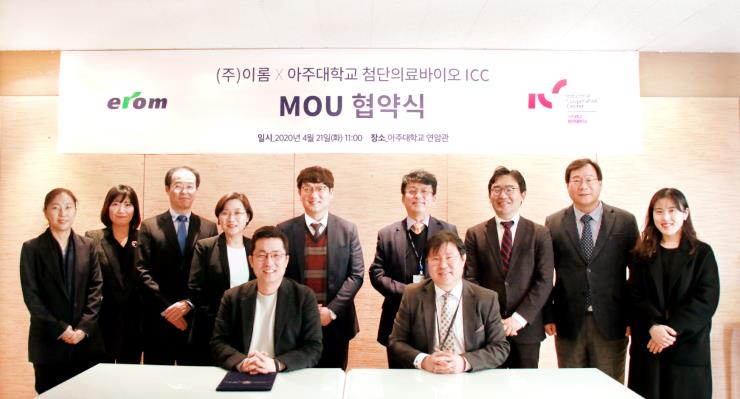 The bio and healthcare industrial cooperation center (ICC) at Ajou University has recently signed a memorandum of understanding (MOU) with Erom to establish a partnership for the creation and joint management of a new immunology research center.
The ICC (led by Prof. Kim Su-dong, College of Pharmacy) announced that it entered the partnership with Erom Company on April 21. The parties have agreed to work closely on joint organization and management of an immunology research center, particularly focusing on analyzing immunity-boosting materials and developing new products.
Kim Sang-min, CEO of Erom (Ajou Class of 1992, history) remarked: "This MOU gives us an opportunity to work with Ajou University's research team on researching, developing, testing and commercializing new immunity-boosting products. I hope this partnership will enable us to bring the benefits of novel products to more people."
The ICC and Erom will particularly work together on basic and clinical research on a rice bran extract ("Erom 4"), which Erom's researchers have been studying for years for its ability to boost the human immune system.
The ICCs are clusters, created by Ajou University, to foster collaboration with local businesses and industries on areas of and discoveries in science in which the university's researchers specialize. There are four areas of specialization: bio-health care, smart mobility, new and renewable energy, and AI and big data. The university provides the necessary infrastructure, advice, and human resource development tools that local businesses need to support their growth.