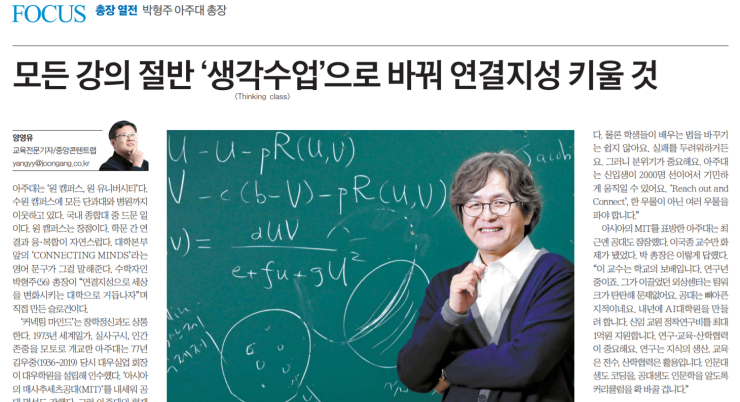 An interview with Park Hyung-ju, President of Ajou University, has been published in the April 25 edition of JoongAng Sunday. The interview took place in the president's office on April 8.
President Park was asked a number of questions in the interview concerning the founding philosophy and history of the university, the current status of online learning and future plans, the Blue Semesters, his own philosophy on education, and the impact of COVID-19 on learning.
Explaining that "universities are where we learn how to learn," President Park emphasized that university lectures should evolve into "thinking classes" with "blended learning" programs that cater to student capabilities, majors and different learning conditions in both online and offline environments.
"Research, education, and industrial-academic collaboration are crucial," said Park, as "research produces knowledge, education imparts that knowledge, and industrial-academic collaboration applies that knowledge." He added: "We will change our curriculum so that those majoring in the humanities will also learn coding and engineering majors will also explore the humanities."
Check out the May issue of Monthly JoongAng to read the interview.
#Go to the JoongAng Sunday interview article