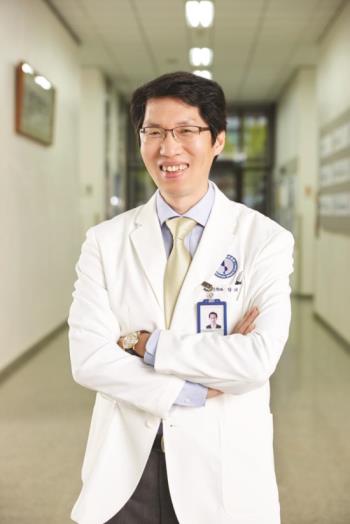 Prof. Park Rae-woong (Dept. of Biomedical Informatics) at Ajou University's School of Medicine has joined the growing number of research teams worldwide analyzing big data in an attempt to fight COVID-19. To that end, the professor has teamed up with the Bill & Melinda Gates Foundation.
With the new flow of funding from the foundation, Prof. Park and his team intend to convert COVID-19 clinical testing data into medical big data to be shared with medical professionals and researchers worldwide. The Bill & Melinda Gates Foundation is a well-known charity fund established and run by Bill Gates, the founder of Microsoft, and his wife, Melinda.
Prof. Park will spend the seven months from March 26 to October 1 this year converting the COVID-19 clinical test data from two general hospitals in the Daegu-Gyeongbuk region into a medical big data platform based on the common data model (CDM). The CDM renders patients' digital medical data anonymous and standardized on a par with the global standard.
Using such a model, researchers worldwide can develop analytical programs, also in line with the global standard, and share them with other participating researchers and organizations in return for analyzed statistics. The CDM, in other words, simultaneously ensures the protection of privacy and the multiplication of useful data and resources for researchers.
Prof. Park and his team expect to achieve timely conversion of COVID-19 medical data using their platform for comprehensive analysis of big data ("FeederNet") and thereby enable medical and science communities worldwide to identify the key characteristics and risk factors of the disease, and gain a better understanding of the effects and side effects of the diverse treatments being attempted.
"We expect the latest partnership to promote the global community's understanding of COVID-19, generate real-world evidence on the disease, and foment collaboration among researchers worldwide toward finding solutions," said Prof. Park.
As leader of the Federated E- Health Big Data for Evidence Renovation Network, a major national R&D project funded by Korea's Ministry of Trade, Industry and Energy, Prof. Park has already been standardizing clinical big data from 63 medical institutions across the country. As a well-known medical big data expert, Prof. Park is also one of the founding members of Observational Health Data Sciences and Informatics (OHDSI), a multi-agency research network that encompasses over 200 research institutes worldwide. OHDSI has helped to convert clinical data on over two billion people worldwide into a CDM.
#Prof. Park's Column: "[Ajou Insights] Medicine and Big Data"